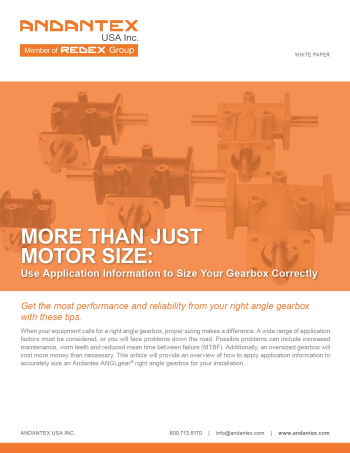 When your equipment calls for a right angle gearbox, proper sizing makes a difference. It's important to consider many application factors, or you'll face problems down the road. Possible problems can include increased maintenance, worn teeth and reduced mean time between failure (MTBF). Additionally, an oversized gearbox will cost more than necessary.
Our new white paper explains how to apply application information to accurately size an Redex ANGLgear right angle gearbox for your installation. Here are the highlights:
Tips on how to determine your target speed and output torque.
How to include service factors during sizing.
Step-by-step instructions for sizing a right angle gearbox.
Situations when you may want to size up.
Environment, construction and other considerations.
Customization.
With this white paper, you'll gain a better understanding of the many factors that must be considered in order to achieve optimal performance and reliability without costly oversizing. By doing so, you'll correctly size a gearbox to match your needs.