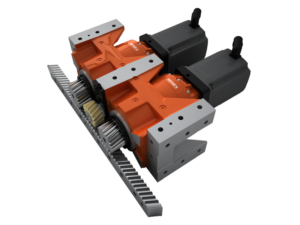 Redex will unveil its latest generation of high-precision planetary reducers, built around its new EVO 1 (Evolution 1) technology, during IMTS 2022 at Booth 236016.
Developed with machine tool performance in mind, EVO 1 is a new approach to driving machine tool axes. The EVO 1 mechanical gearing system approaches the performance of a linear motor at the lower price of a rack and pinion linear axis. Features include high stiffness, zero backlash and an ultra-minimal transmission error. This new design provides vibration-free motion and an optimum surface finish for the machined part.
At the show, Redex will showcase its first range of redesigned planetary reducers featuring EVO 1 technology — the SRP, KRP, KRPX and DRP Series — which are all available in their existing sizes. The new design still features the breakthrough technologies that made this range of products a favorite for machine tool builders: small diameter integral output pinion, huge preloaded tapered roller output bearings helping to create maximum combined (radial, torsional and axial) stiffness, as well as Patented ZERO-BACKLASH DualDRIVE and TwinDRIVE solutions.
In addition to the planetary reducers, visitors can also check out many other products from Redex's varied lineup, including:
Linear and rotary axis drive systems.
Two-speed spindle drive gearboxes.
Automatic lubrication systems.
Merobel magnetic particle tension control systems.
For more information, visit our product page.
---
About Redex USA
Redex USA, is a New Jersey-based company manufacturing industrial right angle gearboxes (AnglGear), as well as distributing and supporting high-quality industrial power transmission products from leading European brands including REDEX Group, WMH, DLS in Germany and GUDEL Switzerland. Our repair shop has factory-trained employees. Redex USA's Application Engineering team is well versed in a wide range of industries including machine-tool, carbon fiber, 3D printing, routers, automation test benches, wire and cable, packaging, textile and printing machines, to name a few.